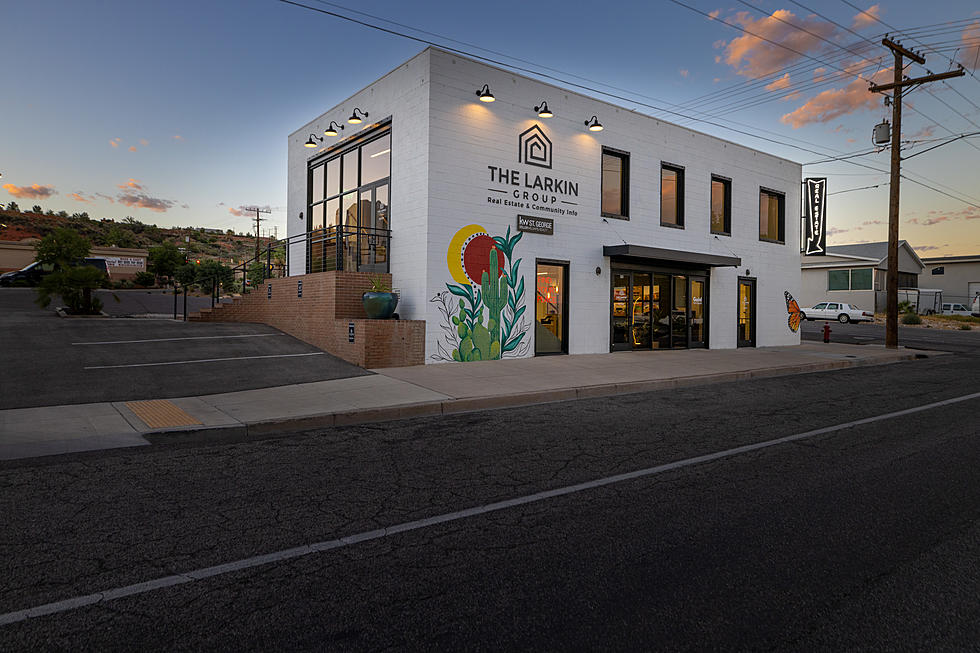 The Unforeseen Bloom in Southern Utah
The Larkin Group
Once known as Cameo Florist, one of the most beloved floral shops in St. George where wrist corsages and boutonnieres were eagerly purchased for dances and special occasions, has given way to an impressive redevelopment project, affectionately called  Legacy Corner.
This beautiful transformation was completed by Big Tree Construction.
At the old address, 695 E. Tabernacle, St. George, Jeremy Larkin has successfully breathed new life into the former floral house, transforming it into a magnificent real estate office. Along with the help of designer, Kasi Miller, his dream has come to life.
Jeremy's visionary transformation serves as an emblematic symbol of the modernization of St. George, while still paying homage to its rich history and local landmarks, both inside and out.
He had the audacious plan to build a trailblazing office that not only offers state-of-the-art infrastructure but also nurtures nostalgia by incorporating elements from the city's finest attractions. Now it serves as a location for his bustling Real Estate Team, The Larkin Group with Keller Williams.
Upon entering, one is greeted by alluring renditions of iconic local landmarks. There is such attention to detail.
From the bathroom doors to specific rooms, Juanita Brooks, a famed Utah historian that wrote a book about the Mountain Meadow Massacre, has her image depicted on the entirety of the women's restroom door.
George A. Smith, who urged early settlers in Southern Utah to eat raw, peeled potatoes to cure scurvy has a mural adorning the men's restroom door. He was also known as the "Potato Saint." Larkin shared.
The idea of adding these images on an otherwise undecorated space, like the bathroom door, to show which is which, creates a fun whimsical atmosphere in the space.
"We wanted to portray all of what is St. George and Washington County. So we literally named these rooms, The Tabernacle room and The Snow Canyon Room. That is a picture I actually took by myself, from West Canyon Trail in Snow Canyon, probably two summers ago, I snapped it with my iPhone." Jeremy Larkin said.
These murals greet you when you open the door to each room. Walking through the door, you are transported to yet another amazing location in St. George, room by room.
Every corner has a story to tell. Unique depictions of landmarks continue to guide the way to each floor, creating a visually intriguing journey as you ascend.
Another striking feature is a daring use of windows, designed to flood the once-shadowed space with natural light. Jeremy said, "we added 16 openings to the building." The stunning effect is a spacious and bright area, contributing to an uplifting atmosphere that immediately evokes feelings of positivity.
There are neon signs, and positive quotes that also encourage you to live your best life and try your hardest to succeed.
Artistically, exterior murals, created by Ashley Graf, have been thoughtfully added to create a vibrant streetscape which contributes to the overall beautification of the city. These murals, depicting a a woman with a cowboy hat and butterflies all around, red rock desert landscape, and the community's ethos, with quotes like, "you belong here" resonate and evoke appreciation amongst locals.
On a recent visit to their former business premises, the original owners were awestruck by the redesign of the building. Larkin gave them a tour of their former floral shop, showcasing the innovative redesign that was virtually unrecognizable from the quaint florist shop.
The upstairs which was previously used for storage, now houses many offices for Larkin's busy team of Realtors. A significant highlight of this invigorating project was the way it managed to embed local historical elements within its modern outlook.
This notable redevelopment exemplifies an inspiring blend of function and aesthetics, forging a harmonious link between the past and future.
It not only advances St. George's architectural landscape but strengthens community ties, reviving stories once blooming here at the heart of Cameo Florist.
This transformation is a promising indication of the future of St. George, where the preservation of its heritage and exposure to a creative modern twist can coexist harmoniously.
Pictures of a Utah House That is About the Size of the Whitehouse
Look at these pictures and dream what it would be like to live in this colossal mansion in Utah.