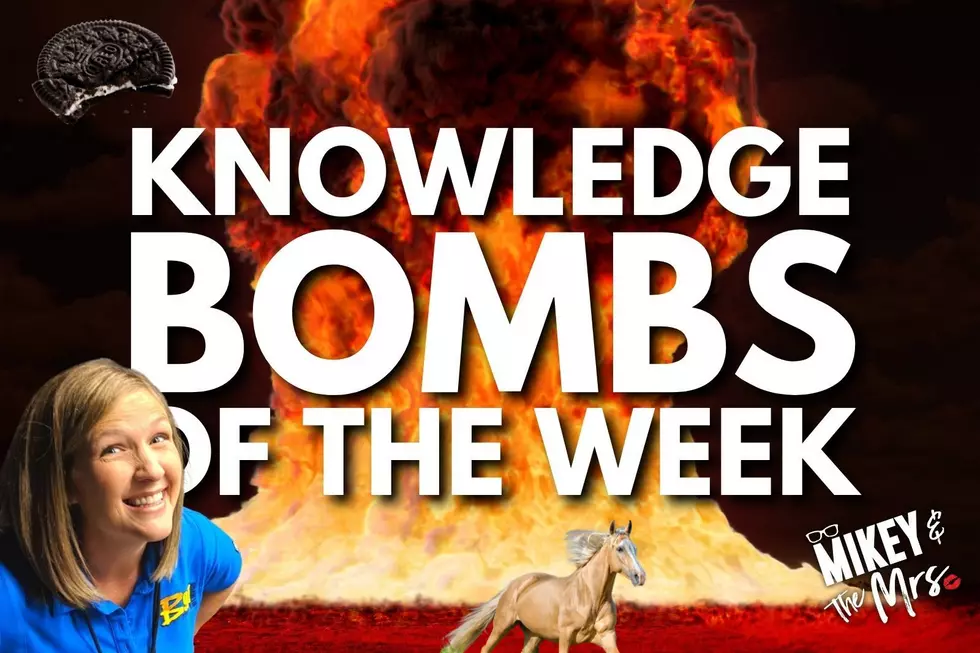 Southern Utah's Knowledge Bomb Fun Facts This Week 03-03-23
Canva
Here are some of the best Knowledge Bombs from The Mikey & The Mrs Show this week.
In Wales, they have a weird marathon.  It is a competition between humans and horses.  And since the race started in 1980, the horses always seem to win.  There have only been two times that a human has won.
In the 1800s in Austria, single women would put an apple slice in their armpit during dances.  At the end of the night, when it was nice and sweaty, they'd give it to the guy they liked.  And if he felt that way about the woman, he'd EAT it.
A few scenes in "There's Something About Mary" were filmed in Plantation, Florida . . . but when the city council found out what the movie was about, they asked NOT to be included in the credits.
Ben and Jerry originally wanted to get into the bagel business, but picked ice cream because it was cheaper.
Barry Manilow didn't write his song "I Write the Songs".  It was written by Bruce Johnston from the Beach Boys.
The ratio of cookie to cream in an Oreo cookie is 71% cookie, 29% cream.
The Spice Girls got their nicknames from a magazine.  A British magazine called "Top of the Pops" did a story on them in 1996 and the writer and illustrator included a cartoon of them in a spice rack, labeled Ginger, Scary, Sporty, Baby, and Posh.
Green bean casserole was created in 1955 by a woman named Dorcas Reilly, who worked at Campbell's Soup.  It was to help sell cream of mushroom soup.  And it was such a success, she was inducted into the National Inventors Hall of Fame in 2002.
FAKE NEWS OR NEWS NEWS 02-21-2023
Do you know fact from fiction? Here are this weeks' FAKE NEWS or NEWS NEWS stories!
13 Words Only Utahns Know How To Pronounce
If you can say these words like a local, you must be from Utah