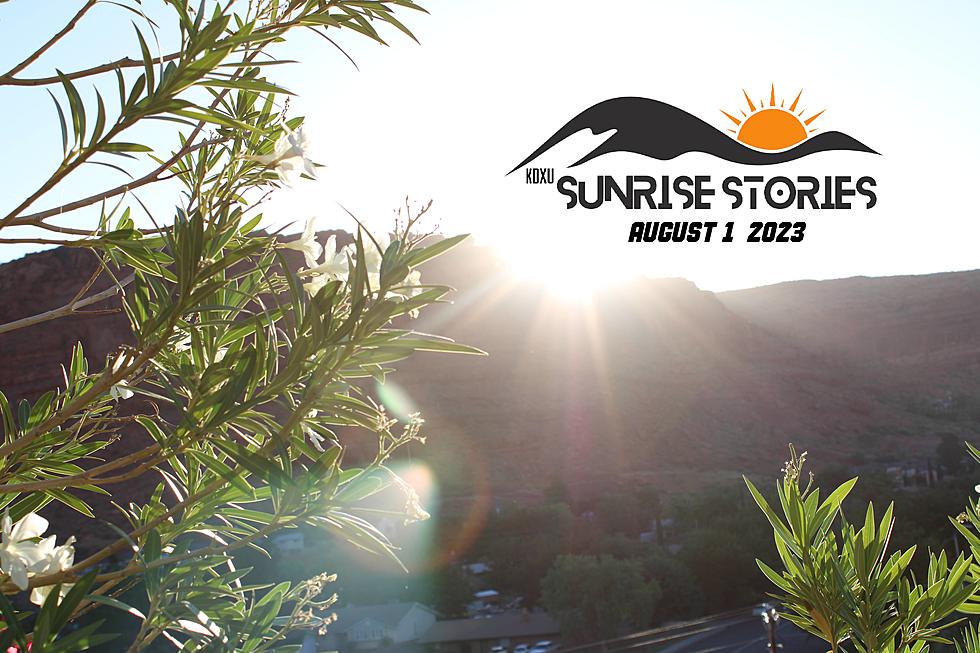 KDXU Sunrise Stories For August 1, 2023: More Lightning Strikes, Another Congressional Debate, and Lego Salt Lake City
Photo Credit: Stockton Myers
KDXU Sunrise Stories: Volume 23 
Statewide News – 08/01/23 
Utah Resident Recreates Salt Lake Landmarks with Lego 
A Utah resident is recreating various Salt Lake City landmarks with Lego bricks.  
More than 6,000 people follow Phillip Sadler on his Instagram account titled "Salt Lego City" where Sadler seeks to highlight the pockets of culture that exist on every block.  
Sadler has built the downtown Salt Lake City library, the Gilgal Sculpture Garden, and the Dee's Family Restaurant sign in Sugar House.  
The followers of the "Salt Lego City" account participate in surveys to determine what Sadler should build next. 
Loophole Found in WARN Act by Utah Companies 
Legal loopholes are being used by Utah companies to avoid the WARN Act, which is an act that requires employers with one hundred or more employees to provide a notice if a mass layoff is coming.  
The loophole? Attorney Stuart Miller said tech companies rarely file WARN notices when their employees are scattered across multiple work sites. 
Credit repair company Progrexion is facing two separate WARN based lawsuits for mass layoffs in April of about 800 to 900 employees. 
Judge will Not Remove Maloy from Ballot 
A judge will not remove congressional candidate Celeste Maloy from the primary ballot. 
This decision comes after GOP member Richard Quinn Denning said Maloy isn't eligible to participate in the election since she didn't vote in the 2020 and 2022 elections. 
Dennings is suing Lt. Gov. Deidre Henderson and Celeste Maloy over this reasoning. 
The judge said they don't want to upset the special election process because ballots have already been mailed out. 
Southern Utah/St. George News – 08/01/23 
Another Congressional Debate to Hit Southern Utah 
Congressional candidates Becky Edwards, Bruce Hough, and Celeste Maloy will participate in a debate at the Washington County School District Building in St. George on Saturday at 6 p.m. 
The moderators will be Stafford Palmieri, who's the Secretary for the Utah Republican Party, and KDXU's Andy Griffin. 
The primary election to replace congressman Chris Stewart will take place on September 5. 
Veyo Power Outage Caused by Bird 
Residents of Veyo experienced a power outage on July 31 with the cause being a bird crashing into a power line. 
The unfortunate fowl didn't just cause a power outage, it also caused a small brush fire to break out in the area. 
The Dammeron Valley Fire & Rescue made a statement on their Facebook page saying the fire was "immediately extinguished." 
More Lightning Strikes Cause Trouble for Southern Utah Residents 
The current trend of lightning storms in Southern Utah continues due to the ongoing monsoon season.  
These storms have led to many fires caused by lightning strikes. Two more examples of these fires include the "H" on the hill in Hurricane catching on fire, and a fire by Highway 121 from lightning strike on a single tree in the area. 
Both of these fires were extinguished relatively quickly thanks to efforts from fire crews, and moisture from the monsoon season. 
It's not just inconvenient fires that have come from these lightning strikes, but also the loss of animal companions. 
Washington City resident Daemon Basile lost one of his horses to a lightning strike on July 30. No other animals were harmed in the strike, but the loss of his horse RC hurt Basile nonetheless. You can find more details of the story in our full article written by David Hiatt. 
New Campfire Restrictions in Zion National Park 
New restrictions for campfires in Zion Canyon will be in place beginning August 2. 
Officials from Zion National Park announced campfires and smoking near dry plants in the Zion Canyon area will be prohibited until further notice.  
This comes after a fire broke out in the Watchman Campground over the weekend. 
The restrictions are an effort to "protect people, property, and the park itself." 
Violations can lead to fines of up to $5,000 or months of prison time. 
Other 
Fun fact about Stockton Myers, the writer of Sunrise Stories. 
Stockton's philosophy when it comes to taking showers is as follows. Shower right before bed, and when getting out of the shower, wash your feet again. Stockton has a thing about having really clean feet before getting into bed. 
Did we miss something? Connect with us on Facebook and tell us! We'd love to hear from you. 
Happy Tuesday.