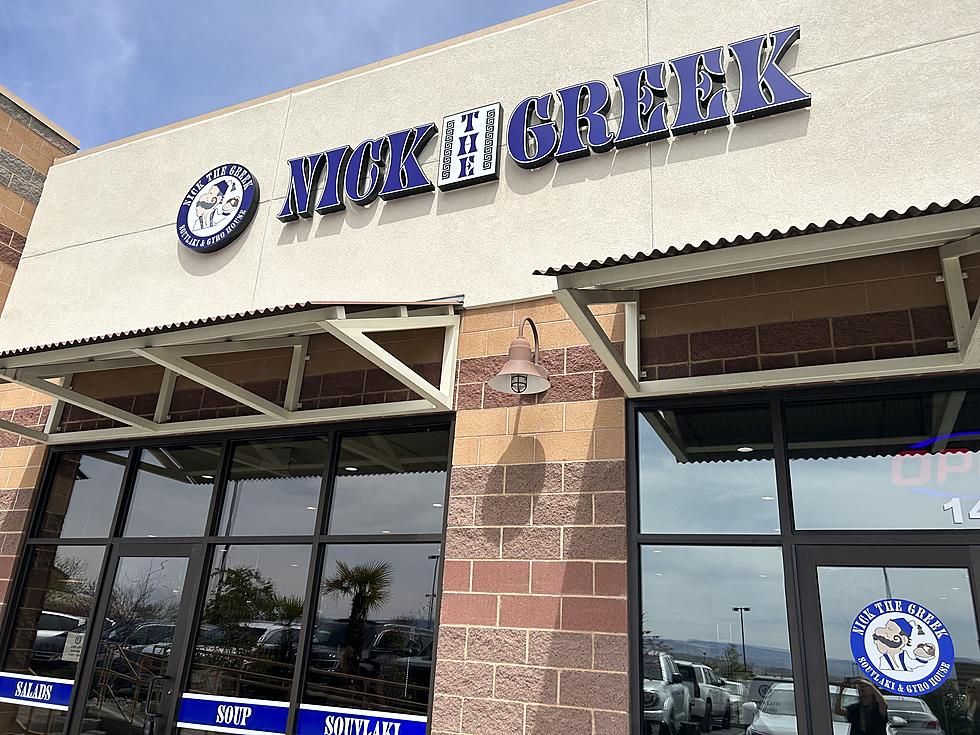 Nick The Greek, A Food Adventurers Dream
Credit: Elle Cabrera
Nick The Greek is one of St. George's newest additions and it is already a popular stop for locals. 
This California franchise has several locations across the country and the one in St. George is the first to make it to Utah. Serving a variety of gyros, souvlaki meats, Greek yogurt dishes and desserts, this new restaurant has a lot to offer.  
Located in the Red Rock Commons, Nick The Greek is a dine-in and take-out place with savory meats in the back right corner. On a Friday afternoon during lunch hour, the place is noisy and packed despite coming to St. George not long ago. It even has a 4.6 star rating on Google Reviews!
The menu behind the counter starts with sides and desserts, then entrée options, then the gyros and pitas.  
The gyro house offers beef/lamb, (the most popular protein) chicken, pork, chicken and pork souvlaki, veggie, and falafel protein options. Customers chose the protein to put over a salad, bowl, or in a pita/gyro.  
The souvlaki options are meat that comes on a stick while the other is shaved off in thin slices from rotating machines in the back. It's a very different cuisine that is not usually found in Southern Utah.  
Besides beef/lamb being the most popular meat, Nick ick The Greek offers French fries. The long and crispy kind that is best dipped in fry sauce. There are regular, Greek Fries and Nicks Fries. Greek Fries are simply feta, garlic, and green onion while the Nicks Fries have a Greek yogurt sauce and a protein added on.  
For French fries, they were pretty expensive with Greek Fries at $8.45 and Nicks Fries at $11.95.  
I tried Nicks Fries with the beef/lamb, and it was a fantastic meal, and the portion was huge. Definitely shareable for a date or family outing. Also, the meat was extremely tender and worth a try at least once. The fries were filling, and the yogurt added some tanginess to the meal.  
I also grabbed the Greek Frozen Yogurt which had pieces of baklava inside. That cost just under $7 but is a perfect treat for the coming summer when the sun will be unrelenting.  The baklava is flaky and crispy and was a good contrast with the tart frozen yogurt.  
The baklava was my favorite, and I even ordered a piece to go home for about $4.  
Nick The Greek is not a cheap stop but, the portions are big, and the food is filling. It's also a great way to try out some new foods and get some flaky sweets.  
For any Utahns missing gyros or pitas well, now that this place is here so miss gyros no more.