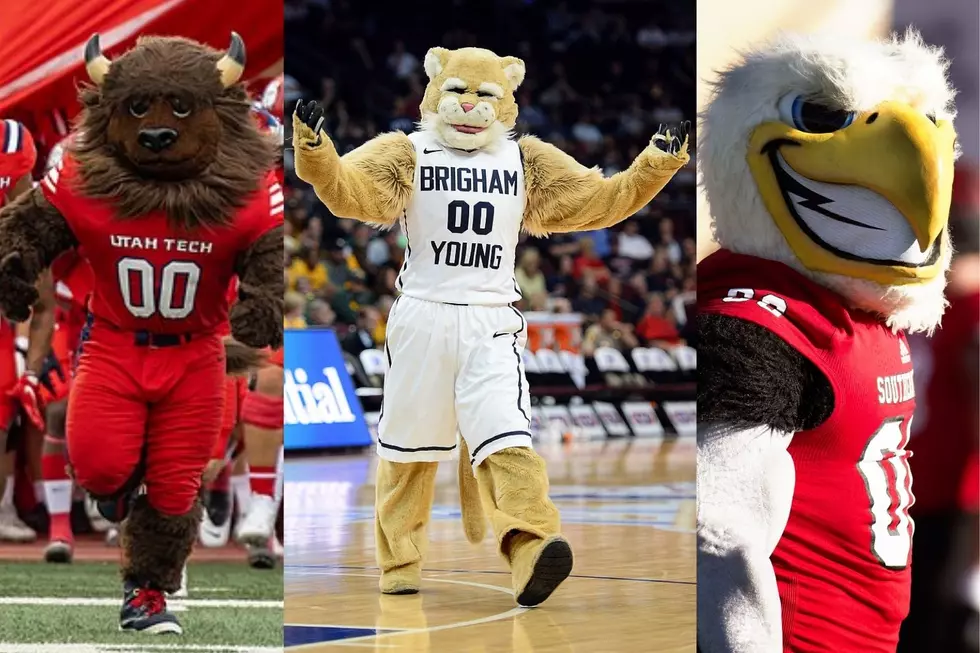 How Well Do You Know The Names Of Utah Mascots?
Getty Images
So you think you know everything there is to know about sports in Utah huh?
You've caught the foul ball at Smith's Ballpark, You've screamed your guts out at Rice Eccles Stadium, or you proudly introduce yourself as a "Cougar" even after you found out it means something else these days.
Maybe you kissed upon the A to become a "True Aggie", or you kissed in a fountain to be a "True Rebel" back in the day.
Buddy, when it comes to sports in the state of Utah, you are fully invested and filled with pride.
And although you may be able to recite the entire starting lineup of the 2004 Southern Utah University football team, but what about the unsung heroes of the games?
The true sport fanatics? The people that go out of their way to make sure everyone in the crowd has a good time, and the positive vibes keep on going even when your team is down by 20 in the last quarter?
Of course I'm talking about the MASCOTS. Sure Lauri Markkanen can dunk. But can he dunk off a trampoline after a couple of mid-air flips? Nope. That's the kind of bad-a**-ery that's reserved for the elite athletes who are so good, they can do it nearly blindfolded while wearing a foam head and furry pants.
So let's show some gosh darn Utah respect to the real MVPs and see how well you know their names.
Can You Name These Utah Mascots?
How many of these mascots in the state of Utah can you name?
LOOK: The story behind every NFL team name
Stacker
delved into the story behind every NFL football team name. Overall team records, also included, are reflective of NFL regular-season games. There are some football teams with well-known nicknames—the Jets, for instance, are often referred to as Gang Green—but we also divulge how some teams' official names are sparingly used (the Jets' neighbors, the Giants, are actually known as the New York Football Giants). Sometimes a team name can tell you a lot about local history: The Vikings of Minnesota draw upon the area's strong ties to Scandinavia, and the Tampa Bay Buccaneers are dripping in local legend related to Florida's pirate past.
Let's kick off the countdown with the folks who earned their nickname by buying boxes of used team jerseys.
LOOK: These Are the Richest NFL players
To uncover the richest NFL players,
Stacker
consulted
Celebrity Net Worth
and ranked them by their 2022 net worth, calculated using a proprietary formula.