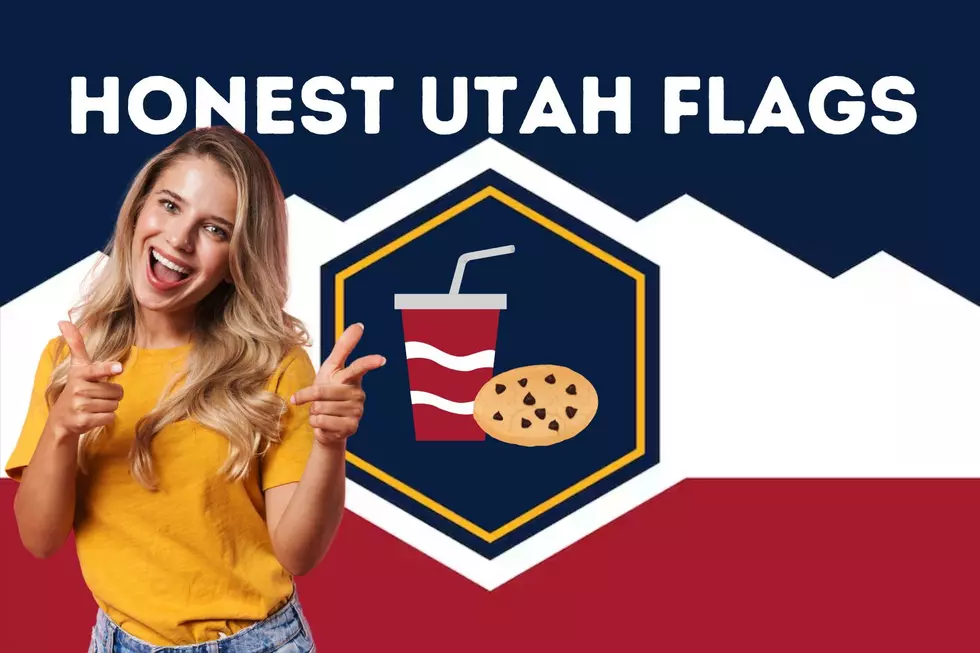 15 New Utah Flag Designs That Feel More Honest
Canva
As you probably know, the state of Utah recently adopted a new state flag.
But then there in the center of the flag is the Utah state symbol of the beehive. 
Locals are already familiar with the symbol of the beehive, but for outsiders, a beehive doesn't make a whole lot of sense.  Did Utah have a bunch of honey farms? Does Utah Have a problem with bug infestations? Is this a veiled threat that they're gonna STING me if I provoke the nest?  What's the deal??!
Those of us who have been in Utah a long time, recognize that the beehive is a symbol that Brigham Young used not only as it's traditional Masonic origins  to signify industry, but also as a reference to The Book of Mormon, and its name for the honeybee, Deseret.
Of course explaining the origins of the honeybee, Deseret, Masonic symbols, and Brigham Young's views on life in general can take a great deal of time.  So wouldn't it be nice to just have a flag that makes perfect sense as soon as you see it?
Here are 15 NEW Utah state flag designs that one could argue is far more representative of life in Utah, and make a lot more sense than a hive full of insects that secrete sweet sticky fluids out of their butts.
15 Honest Utah State Flag Designs
Here are 15 designs for the Utah State Flag that describe our state better than a Beehive.
Utah Counties Ranked By Bigfoot Sightings
Here are all the Counties in Utah ranked by the number of bigfoot sightings according to
bfro.net
This Is The Biggest Home In Utah
The largest house in Utah is in Springville on a bluff facing the Wasatch Mountains. This house features six bedrooms, eight full bathrooms, a swimming pool with waterfall and lazy river, a basketball court, and a 27-seat theater on 156 acres of land. It's only $17,500,000.00. What a bargain!